Tequila and I are old friends. The kind where you may not see each other for months or years but as soon as you do, you're connecting immediately and picking up right where you left off. I've found in my life that as I've grown up, my ability to purchase higher quality things has also increased. When you're young and in college and poor, you take what you can get and you don't throw a fit. Quantity over quality was the name of the game. But now, I can afford a little more luxury in my liquors and find a lot more pleasure in the quality – not so much the quantity. But hey! That's me! Everyone has their own perspectives on alcohol and this is mine: Make it tasty and make it strong. I'm also one who doesn't like to sweeten the daylights out of every drink. Let me taste the things! So here's the skinny on my best margarita…
Skimp on the tequila if you must, but know that it's not a great life choice. I'm trying to help you out here. I like a good top shelf choice; premium is best but go with your gut here. The liqueur is the place where you can really personalize this drink and make it your own. Options I've had and love are Gran Gala, Cointreau or Grand Marnier. I like Patron's Orange as well. Just please, for the love of tequila, let your favorite Mexican dive handle the triple sec and get a nice liqueur for your at home mixing. It's worth it, I promise. And one bottle will last you a long time.
Get a few limes because sour mix is for amateurs. We are having grown-up margaritas tonight. Grab your shaker, shot measures and some rock salt for set up. I put this whole thing together on a cutting board. It's convenient, doesn't get everywhere if you don't have a bar setup and looks incredibly classy. Chop a lime in half and grab your Young Living Lime Vitality Essential Oil and you're ready to mix!
Fill that shaker with ice and squeeze half a lime into it. If you really get all that juice out, you're going to land right around an ounce, maybe more. I always just use half a lime and make sure to get all up in it and get all the juice out. Three drops of your Lime Vitality oil - this is your magic bullet. The flavor that happens with this oil in the mix is incredible. Now measure out the tequila and the cordial and shake it like you mean it. Now, some people like a sweeter margarita – I don't. But if you do, you can add a little agave syrup or superfine sugar here. This is all you because I think lime margaritas should be sassy and strong, not sweet. Prep a lowball glass with a salt rim and ice. This is really easy with a kit you can get at your liquor store. Keeping your strainer on the shaker, pour the gloriousness over the ice, garnish with a lime wheel and sip it like the sophisticated gem you are.
Cheers!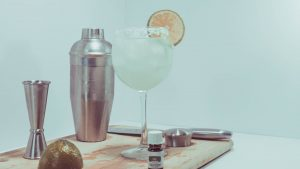 Are you asking yourself, "Where can I get those oils?" I'm here for you, friend.
Category: At Home, Essential Oil Recipes, Essential Oils, How to Use Essential Oils, Recipes, Vitality™ essential oils, Wellness, Young Living Lifestyle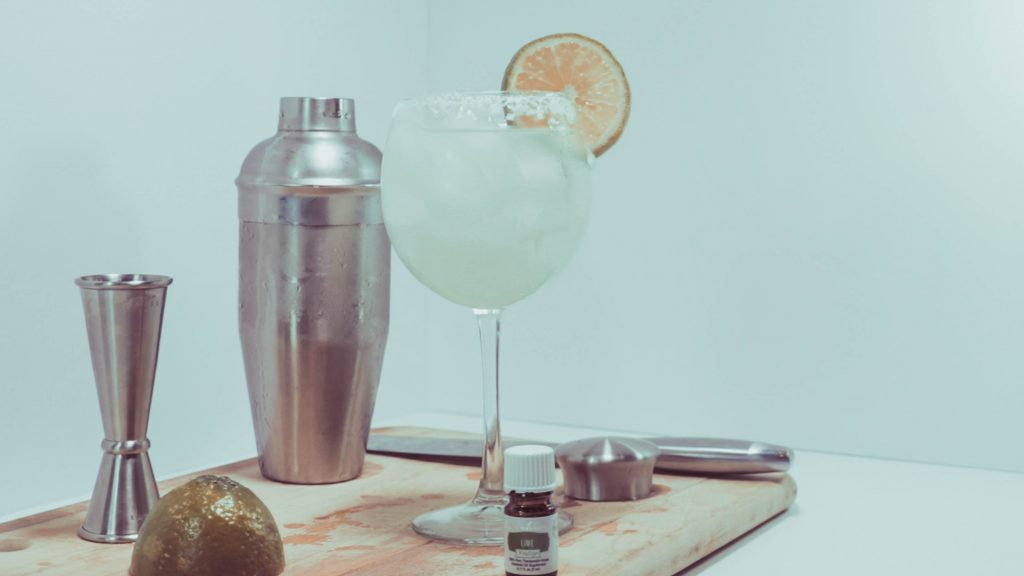 Ingredients
1 Lime, halved
1 oz. Orange Liqueur
1.5 oz. Blanco Tequila
3 Drops Young Living Lime Vitality Essential Oil
Rock Salt
Lime Wheel
Instructions
Fill cocktail shaker with ice.
To shaker, add half a lime squeezed, Liqueur, Tequila and Young Living Lime Vitality Essential Oil.
Shake vigorously at least 30 seconds.
Rim a low ball glass with lime juice and rock salt. Fill glass with ice and pour contents of shaker through strainer into the glass.
Garnish with lime wheel and serve.
I've created a free PDF download for you: Five Secrets About Essential Oils In 5 Minutes. They're in "The Scoop"!
Click Here to get it.