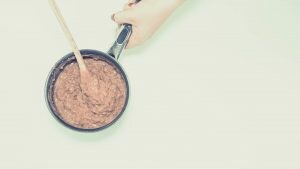 There is not even a recipe card for these because you can literally fit all these words and the ugly pic in a screen shot. Hey, they don't have to look good, they just have to taste good. I'm for real.

Dump 3 cups rinsed pintos in the crock pot.
Add 1 small onion grated, 3 slices of bacon, 7 cups veggie broth, 2 drops Young Living Black Pepper Vitality Essential Oil, 1T Cumin and 2 T Garlic Salt.
Cook on low for 12 hours then mash with a potato masher or blend with an immersion blender.
Try not to eat the whole batch in one sitting, sweetheart.
Cheers!
Are you asking yourself, "Where can I get some of those oils?" I'm here for you, friend. Contact me
Here
I've created a free PDF download for you: Five Secrets About Essential Oils In 5 Minutes. They're in "The Scoop"!
Click Here to get it.