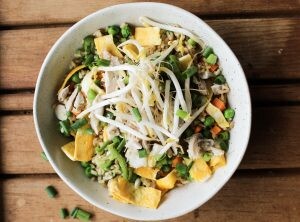 Fried rice can be so amazing. I love this when we get takeout but I had never really nailed the at home version until recently. I learned a few tricks and now I prefer to have it at home than from the Chinese joint down the road. My husband is a rice fiend so my attempt at a home-based fried version was definitely in the "trial by fire" category. I passed. You're welcome.
The first key is to use cold rice. I was rice-challenged for many years and finally broke down and bought a rice cooker. I felt like it was admitting defeat on some levels but I'm totally over it. I use the thing at least once a week. Just trust me, swallow your pride and get one. It's the best $20 I've spent in the kitchen in awhile. When I know fried rice is on the menu for the week, I will either cook 3 cups extra for a rice-based meal earlier in the week or just cook the rice for my fried recipe during my meal prep time and put it in the fridge. I don't have all the answers as to why this makes the rice behave so much better when you actually fry it days later, but it just works. Use cold rice. That's the take-home message.
The second key is to have all your ingredients already chopped and ready to go before you start cooking. This is very foreign to me as I am generally a "do it while you're doing it" food prep person. I have to mature in this area and the fried rice makes that personal growth effort worthwhile. Get all your stuff out and chopped and measured – then turn the fire on.
Once you start cooking, the pace is fast-ish and timing is important so just follow the directions and all will be well. I've done this recipe with chicken, beef, shrimp and leftover [Honey Glazed Broiled Salmon]. Friends – the salmon takes the cake. Now, whenever I have Salmon on the weekly meal plan, I get home-persecuted if I don't also have Fried Rice happening in that week. It's that good.
Category: At Home, Recipes, Wellness, Young Living Lifestyle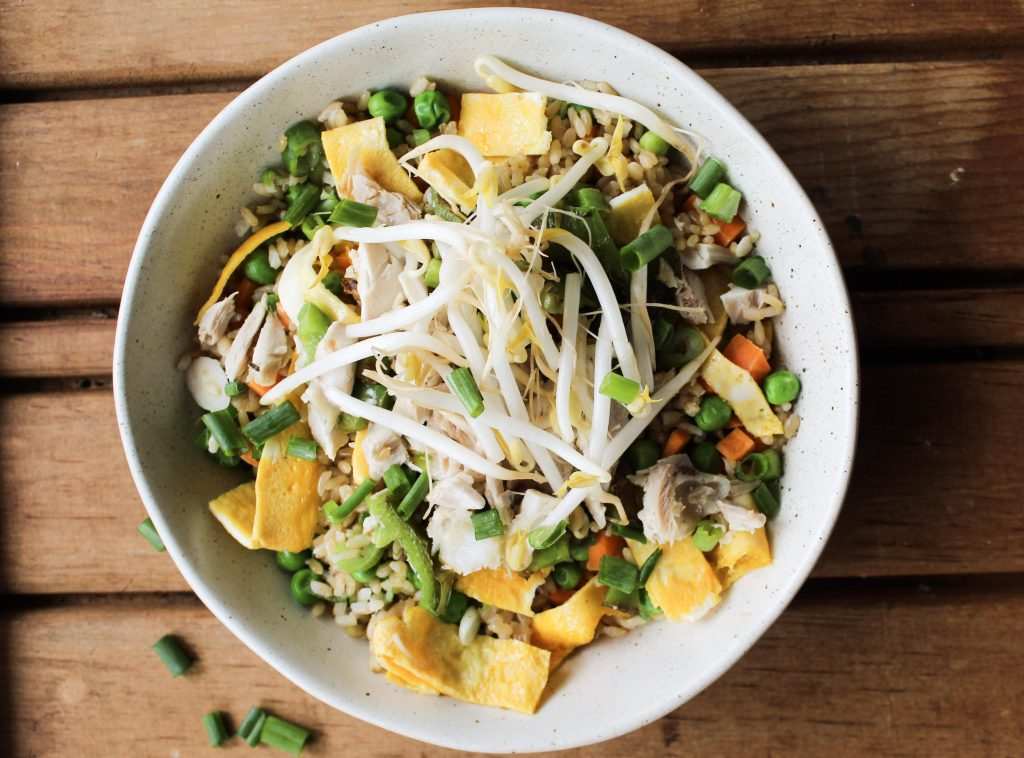 Ingredients
¾ cup chopped onion
2 ½ tbsp olive oil
1 egg, lightly beaten
3 drops soy sauce
3 drops sesame oil
8 oz. cooked chicken (or meat of choice) **OPTIONAL**
½ c finely chopped carrot
½ cup frozen peas, thawed
4 cups brown rice, cooked and chilled
4 green onions, chopped
2 cups bean sprouts
Soy Sauce for serving
Instructions
Stir fry onions in 1 tbsp oil in large skillet or wok over medium/high heat 8 minutes. Remove from heat.
Mix egg, soy sauce and sesame oil in a small bowl. Add 1/2 tbsp. oil to the skillet, swirl it around. Add egg mix, swirl it till the egg sets. Once it puffs up, flip it, cook 1 minutes, remove from heat and chop.
Heat 1 tbsp oil and add meat, carrot, peas and onion. Cook 2 minutes.
Add rice, green onion and bean sprouts. Toss and fry 3 minutes.
Add 2 tbsp soy sauce and egg. Toss together and fry 1 minute
Serve immediately with soy sauce.