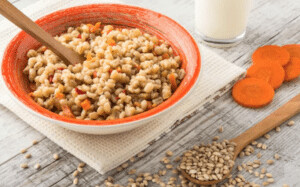 Barley: one of the most underestimated grains. This guy goes head to head with rice in most cases and has almost a creaminess to it that comes out of nowhere. I love using this baked barley as a side or even main in any situation that requires comfort food. Personally, I like all my food to be comforting so…take that as you will.
This is a super easy recipe that you just have to think a little ahead for. It takes a full hour to bake so don't skimp on that. I've added a lot of different veggies to this mix but so far, carrots are my favorite, so they make this recipe. You can also use mushrooms, leeks, parsnip, celery, radishes or pretty much any root vegetable and have this be a winner. Just remember that the veggies also require broth to cook and you may need to adjust the broth quantity up slightly when adding more than half a cup of veggies. My preference is to have more broth than "necessary" anyway and end up with a little sauciness after the baking is done. You do you, here. If you like it to be totally cooked off, reduce the broth amount and find your sweet spot.
The thing I appreciate about pearl barley is that it doesn't HAVE to be rinsed. Some people do – I'm lazy and don't. Again, that's your call. I use a 4 to 1 ratio of broth to barley. You can use any type of broth that trips your trigger. I like to make my own [Beautiful Beef Broth] and use that. It's full of collagen and minerals and other amazing things our bodies are often deficient in. This barley recipe is just one more way to get that awesome broth into your system and care for it naturally. You can also use water if you prefer. In any case, I go 4 to 1. For our family, 1 cup of barley makes a meal for the 4 of us and 1 or 2 servings of leftovers. As long as you keep the ratio and use a large enough pot/dutch oven, you can increase your amount to your heart's content. You can use any pot that has a lid and is oven safe. I've used all kinds.
Bring your liquid to boil on the stove and pour in your barley and veggies of choice. Sprinkle (or drop if you're using essential oils) your seasonings and stir well. Cover and bake at 300F for an hour. That's it. I like to let the pot sit out on the stove for 10 minutes after I pull it from the oven before serving. It seems to get happy like that.
I like to combine this recipe with my [Savory Spiced Turkey] for a "clean" version of that Helper stuff you had as a kid. It tastes unreal and there's nothing artificial in there to feel bad about. It also is an awesome side on it's own. Last favorite option is to chock it full of root veggies and make it a main pilaf-style dish. Cheers!
Category: At Home, Essential Oil Recipes, Essential Oils, How to Use Essential Oils, Recipes, Vitality™ essential oils, Wellness, Young Living Lifestyle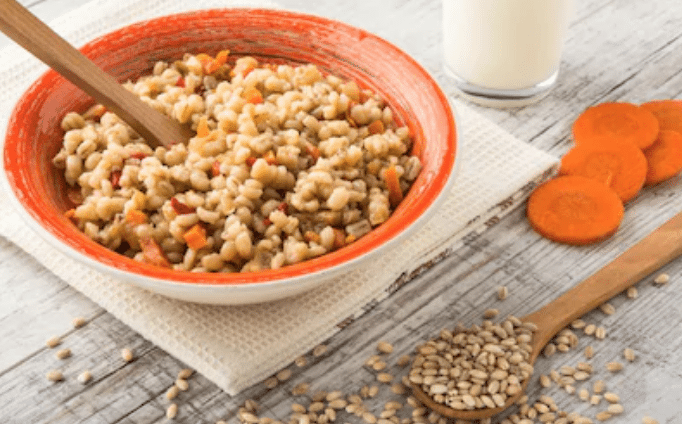 Ingredients
1 cup medium pearl barley
3 ½ cups beef broth
4 carrots, peeled and chopped
½ tsp. thyme
Instructions
Preheat oven to 350F.
Bring broth to a boil in oven safe pot with lid.
Add remaining ingredients and boil 5 min.
Cover and bake at 55 minutes.
Let rest 5 minutes before fluffing with fork and serving.
I've created a free PDF download for you: Five Secrets About Essential Oils In 5 Minutes. They're in "The Scoop"!
Click Here to get it.