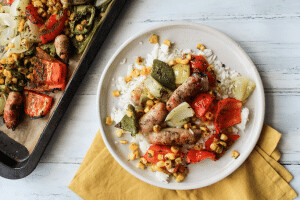 This is technically in my "lazy meal" category because you guys…it could NOT be easier. Put some rice on in your rice cooker or on the stove and let me show you how easy this is. Bonus, my family raves about it. I haven't yet told them that it is basically non-cooking because I don't have to. Let them think I slaved.
Here it is, people. Preheat oven to 400F. Rough chop a red and orange bell pepper, an onion and open a can of corn. Throw all that into a large bowl and mix with 3 tbs of olive oil, one drop Cinnamon Bark Vitality essential oil and a generous sprinkling of Cavender's. Mix it up and then chop 4 apple chicken sausages and add them into the mix. Spread all that on a prepared baking pan and bake for 20 min, turning after 10. Serve over rice and take a bow.
Category: At Home, Recipes, Wellness, Young Living Lifestyle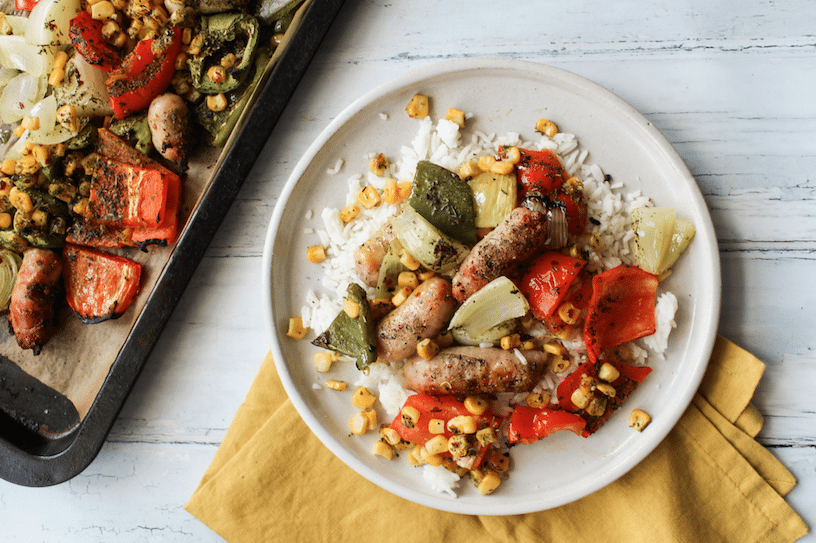 Ingredients
4 cups Jasmine rice, prepared
3 bell peppers, rough chopped
2 yellow or Vidalia onions, rough chopped
1 can sweet corn
¼ cup oli e oil
Cavender's Greek Seasoning
2 pkg. Apple Chicken sausage, cut into ½ inch sections
Instructions
Preheat oven to 375F.
Cook rice.
While rice is cooking, chop all ingredients and toss in a big bowl with olive oil and seasoning.
Bake on 1 or 2 cooking sheets for 15 minutes, flip then another 10 minutes.
Stir 2 tbsp butter into the hot rice before serving.
I've created a free PDF download for you: Five Secrets About Essential Oils In 5 Minutes. They're in "The Scoop"!
Click Here to get it.