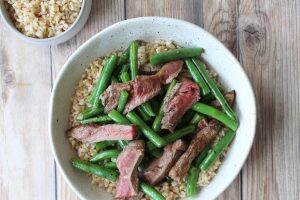 This recipe is a glorious mash-up of my
Gim'me Some Green Beans
and the best looking cut of rib eye in your butcher's case. I get a nice thick cut and slice it thin. It's worth paying a little extra for a great cut of meat. My family of four eats great on one steak – we usually even have one serving to send to work with my guy the next day.
Make up the green beans and while they're getting happy in the skillet, go to work on your steak. Break out the coarse sea salt and Fresh ground pepper and just let that sit out while you prep the beans. I like to season the cut and let it sit out on the counter for 20 minutes or so to come up to room temp for more even cooking. This is important when you're on the stove because you can have more temperature variation than on the grill, I find. I like using cast iron for cooking steak because of this reason also – the temp just is more consistent across the pan. Get the pan nice and hot over medium-high heat and melt your butter in the pan. I like to put a few garlic cloves (you don't even have to peel them, just smash them with the side of your knife and throw them in the butter) in the pan to infuse the butter with a glorious flavor. You're going to sear this steak to lock in the flavor so the rule here is – leave it alone. Put it on the hot pan and set your timer. Three minutes for a thinner cut of rib eye and for 4 minutes for the thick beast. Then flip it once for the same amount of time. Then take it off and let it rest for 10 minutes on the counter. Slice it into thin strips and don't panic – it will be pretty rare in the middle. Do not fear, non-rare stake people. Hang with me. I like to trim my steak more than the average bear so do your thing here with the fat pieces. I can't get behind the gristle – I know that's where the flavor is but leave me be. Trim it to your liking.
When your beans are just about there, throw your steak and the juice all in the pan with the green beans and let it all cook together no more than 3 minutes. If you leave it too long, your steak will be rubbery and tragic. Trust me: the tender, delightful strips of deliciousness must only be cooked SLIGHTLY more. They're thin – you're just finishing them off. Serve this over rice, my
Roasted Red Potatoes
or just eat it as is for a super low carb/high flavor option. This is a money meal.
Category: At Home, Essential Oil Recipes, Essential Oils, Recipes, Vitality™ essential oils, Wellness, Young Living Lifestyle
Ingredients
1 pound Gim'me Some Green Beans, prepared
1 big Ribeye
2 tbsp Butter
3 cups brown rice, prepared
Instructions
Start your rice, then prepare green beans.
Set out ribeye and generously salt and pepper each side. Rest the meat on the counter while you're doing the beans.
For steak: Your cut should be thick – ½ to ¾ inches. Melt butter in a skillet and sear it on medium/high 8 minutes on each side. Don't flip more than once or mess with it – let it be. Remove from pan and let it rest 10 minutes on the counter. Slice it REALLY thin. It will be rare – don't panic. Trim the grissle (unless you're into it) and return it all, including juices, to the green beans. Stir fry it on high heat 3-4 minutes all together. Serve over rice immediately.