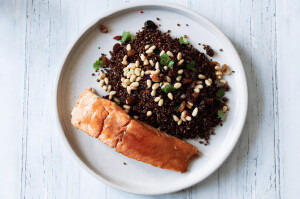 Why is the word "Broiled" so boring? I mean, when I think about what I want to eat, the last thing I think is "Oh, let's broil something…" I mean, really. Broiling. I don't know who thought of this cooking method but let me tell you, it does right by a few foods. One of those foods is fish. And anyone who knows me knows my favorite swimmer is salmon. I love it. I mean - I could eat it every day. But here's the thing, it HAS to be done right or it is just a tragedy on the plate. It can be so bad. But Lord Jesus…it can be SO GOOD. So let's start with the basics…
Get a good piece of fish. First off, I'm a stickler about wild versus farm-raised. That's just me but seriously, have you ever SEEN a fish farm. N. A. to the S. T. Y. You do you, friends. But I'm sticking with the wild guys as long as I can. It's pricier but so worth it. Second, Great tasting fish does not come from the freezer. It just doesn't. More importantly, the right TEXTURE doesn't happen when the poor thing has been thrown in a vacuum-sealed package and flash frozen. This is the biggest mistake people make when cooking salmon. And here's the thing, friends: If you stick to your 3-4 oz. recommended serving size, you can afford a nicer cut of quality fish. Your taste buds will thank you for it. I feed my family with a pound of salmon. Get some rockstar sides like Gimme Some Green Beans or Sucanat Smashed Sweet Potatoes and load up on your veggies instead of half a pound of meat - you'll be golden.
Ok, now that we have the fish right, let's talk about the basting. When you're broiling meat like this, you have to be on the ball about the basting. This is simple. For a nice piece of fish that weighs about a pound, you'll need about 1/3-1/2 cup of basting mix. Grab your glass measuring bowl and hit it with ingredients. I like a rubber basting brush for this. Keep it handy and near your oven because you're going to be flipping this fish twice and basting it four times. Cover a small cookie sheet with aluminum foil (oh my WORD this makes clean-up a snap) and then brush the foil surface with your mix before you lay the fish on it, skin side down. You're not trying to flavor the skin here, you're just making sure you don't have a mess trying to flip the fish mid-broil. Generously baste the flesh side of the fish with your mix and you're ready to cook this beauty.
When your oven is heated up, make sure your rack is about 6 inches below the broiler flame and put the fish in there, centered nicely. Now set your timer. Three minutes, then pull that fish out. Baste, flip, and put it back in. This is the skin side up now so set your timer for four minutes. The skin will help protect the fish from drying out under it and you want the skin to begin to pull away from the edges of your fish. After four minutes, pull it out and flip again. More basting. Three more minutes and then pull it out. Baste again and let it sit for at least 5 minutes. I like to put a generous pat of butter on the fish with a little foil tent over it for the five minutes because it just finishes off the meat perfectly. The flavor. Off the charts. Slice this baby up and serve alongside your favorite side. Or try mine!
Cheers!
Honey Glazed Broiled Salmon
Category: At Home, Essential Oil Recipes, Essential Oils, How to Use Essential Oils, Recipes, Vitality™ essential oils, Wellness, Young Living Lifestyle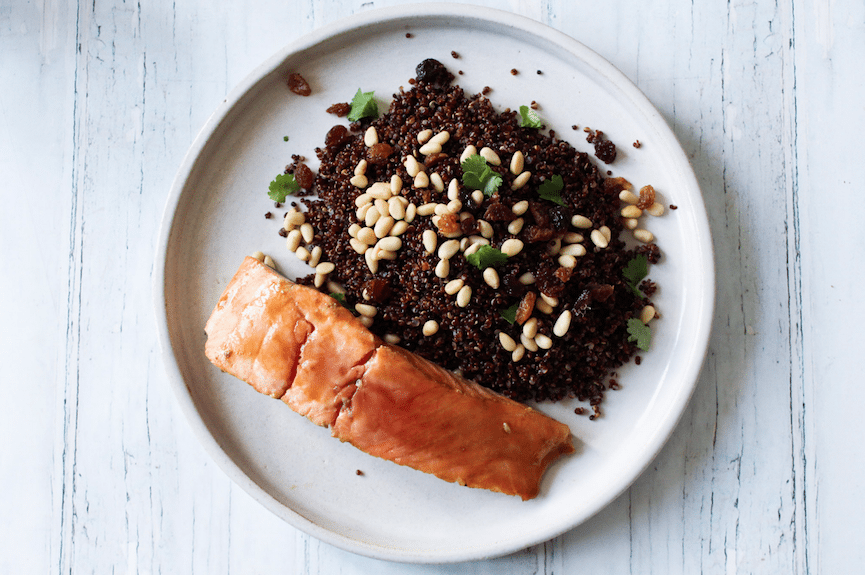 Ingredients
½ cup olive oil
2 tbsp worchestershire
1 tbsp soy sauce
3 tbsp. honey
1 clove garlic, minced
2 drops Young Living Black Pepper Vitality essential oil
3 drops Young Living Lime Vitality essential oil
1 ½ pounds fresh, wild caught atlantic salmon
Instructions
Mix all marinade ingredients and let sit while you prep your pan.
Turn oven on to "broil" and line a small baking sheet with aluminum foil, making sure to go up the sides of the pan.
Brush salmon liberally with marinade, broil 3 minutes.
Pull salmon out, flip it, brush again with marinade. Broil 4 minutes, skin side up.
Pull salmon out, flip it, brish again and broil 3 more minutes.
Pull salmon out and let it rest 5 minutes before cutting and serving.
If you like your fish a little more done, add 1-2 minutes to each cooking time before flipping over.*