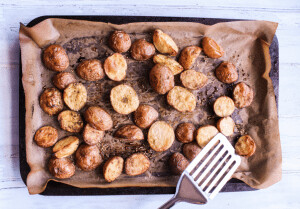 That pair of earrings that seems to go with every outfit? The sandals that morph into something that "just works" almost every day? This recipe is that side dish. That one that you go back to over and over again. The one that you throw next to Roasted Chicken or snuggle up next to a beautiful cut of rib eye. The one that goes under scrambled eggs or my Savory Spiced Turkey…the side that just works with almost anything. It's a favorite in our house and I'm sure you'll agree, it checks all the boxes: easy, quick, and delicious. Part of what makes it so stinkin' versatile is the fact that changing up the spices takes this from one side to many sides. Your creativity is the only limit here. I'll give a few of my favorite flavors to incorporate but you really can go hog wild with this base recipe and experiment till your heart's content. This guy reheats really well too in a skillet quick or under the broiler to keep the crispness. Micro is also always an option if it's your only one.
I like to buy the little red or "B" sized potatoes for this but you can use a Klondike Gold or Fingerling also, if the mood strikes. The basic rules of this routine are uniform sizes in your cut pieces of potato, liberal spices mixed in to your cooking oil before tossing over the potatoes and nailing the cooking time for your preference of crispiness. Personally, I like a little bit of crisp on the outside of mine but my guy prefers them to be just totally soft. While we work this out in counseling, you just go on and figure out what works for you.
My favorite flavoring add-ins are:
One drop each Young Living Thyme Vitality and Rosemary Vitality essential oils
One packet French Onion soup mix
Sea Salt and one drop Young Living Black Pepper Vitality essential oil
Garlic Salt and Italian Seasoning
Lawry's – can't go wrong with this
Cavender's Greek seasoning – another tried and true winner
The sky is the limit on seasoning/flavor combinations. I usually decide what to throw in based on what my main is going to be and my mood at the time. Again, the key is to mix the flavors in with your olive oil before you pour over the potatoes. This keeps a uniform level of spice through the whole batch. Spray a baking sheet and make sure to flip the spuds half way through your cooking time. Bake on, Tater Tots!
Category: At Home, Essential Oil Recipes, Essential Oils, How to Use Essential Oils, Recipes, Vitality™ essential oils, Wellness, Young Living Lifestyle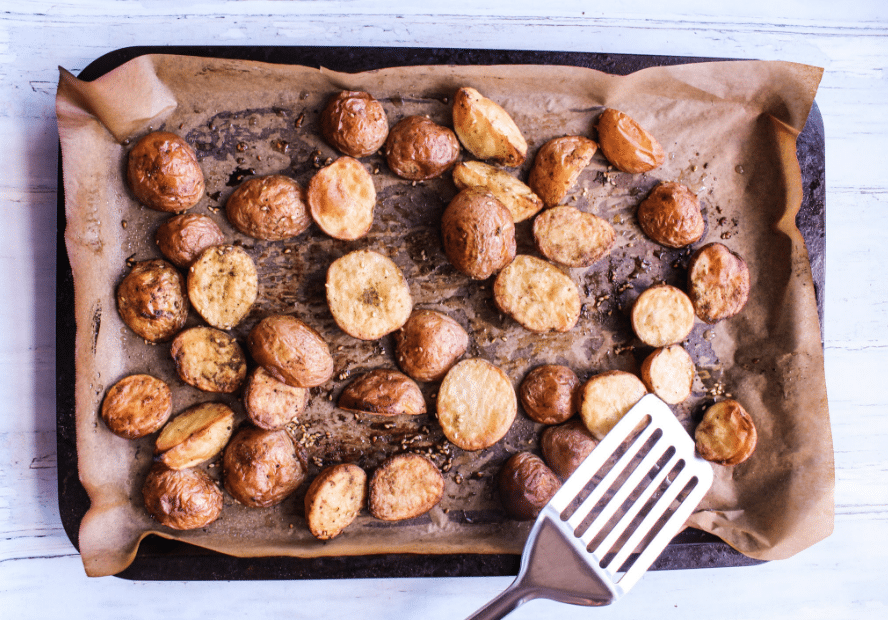 Ingredients
2 pounds B sized or Baby Red Potatoes
1/3 cup olive oil
1 packet onion soup mix or your seasonings/oils of choice
Instructions
Preheat oven to 400F.
Quarter potatoes.
In a large bowl, mix olive oil with seasonings/essential oils.
Mix potatoes well in the oil mixture and spread over a baking sheet in a single layer - you may need two baking sheets.
Roast 45 minutes, turning halfway.
I've created a free PDF download for you: Five Secrets About Essential Oils In 5 Minutes. They're in "The Scoop"!
Click Here to get it.