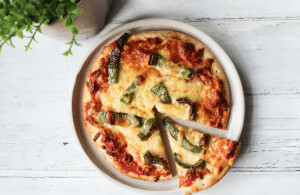 I would often times describe myself as a culinary hack. I take good stuff from a lot of places and put it together. I think that's a form of creativity but you're definitely not going to find me tinkering endlessly with a recipe to get it "perfect". I have a lot going on and I like to make food for my family. I just believe I don't have to spend my life cooking in order to do that. Sometimes, that means throwing together a hybrid of already prepared ingredients that I tweak to make taste better and the end result is pretty darn good. This is the case when I do "homemade pizza". Now, in my dream kitchen, there is a large brick oven that is tended by a little man named Harvey who knows how to keep the temp perfect and just how many logs need to go in that wood fire to make a scratch pizza dough worthy of all my culinary praise. Harvey and I haven't met yet and though I love my current kitchen, it has yet to make it into my dreams. So we improvise.
You can do some amazing things with a store bought pizza crust with just a few minutes of prep. I do have a pizza stone, which I highly recommend to anyone wanting to save some time and money making pizzas at home. Go grab one from the store and thank me later. The first key is to preheat that stone within an inch of it's life. Turn your oven on as high as it will go. For me, this is 550F. Put that stone in there while the oven is heating up and let it get hot. While it's heating up to 7thcircle level, prep your crust. Flip that thing over and brush it with olive oil, sprinkle with Italian seasoning and garlic salt. This needs to be on the BOTTOM side of the crust. Then flip it over right side and put on your toppings. My kids like to make their own pizzas so you can do this with personal sized crusts or just do a big one and call it good. My husband eats a whole normal sized one by himself so…we are flexible with the definition of "personal" sized pizzas.
Some of our favorite toppings are just cheese, fancy cheese, fresh mozzarella and fresh basil with a garden tomato (YES PLUUUUUZZZZZZ), BBQ sauce with leftover [BBQ Pulled Pork] or chicken, [Clean Plate Club Chicken Alfredo sauce] (just hold on to your hat with that one…so good), Bacon and pineapple or a traditional sausage and pepperoni. You can really go whichever direction you like with these pizzas. Get creative. The key is treating the crust and getting the oven really hot.
Once you have your toppings on, bake for 9-11 minutes, until the cheese is as brown as you like. You need to watch it at the end as the browning will happen quick due to the high oven temp. Let the pizza rest on a cutting board for 5-10 minutes before cutting and serving. Have fun!
Category: At Home, Recipes, Wellness, Young Living Lifestyle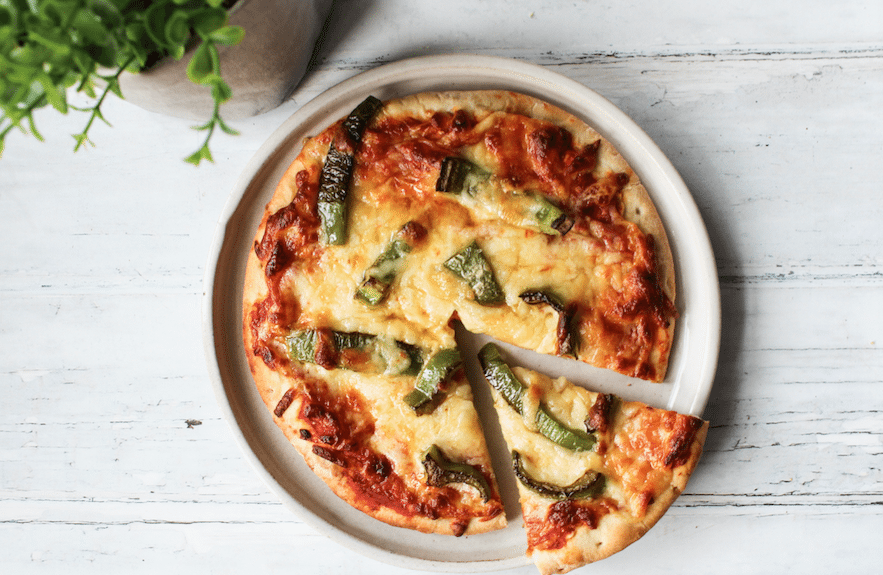 Ingredients
2 pre-made pizza crusts, prepared per above instrictions
Garlic Powder
Salt
Italian Seasoning
1 jar pizza sauce
8 ounces shredded mozzarella
Pepperonis
Instructions
Preheat pizza stone or pizza pan in oven on highest setting – 550F.
Prepare crusts, then top as desired.
Cook 10-12 minutes, frequently checking on the cheese.
Remove from oven and let sit 5 minutes before slicing and serving.
I've created a free PDF download for you: Five Secrets About Essential Oils In 5 Minutes. They're in "The Scoop"!
Click Here to get it.