I confess…I never liked chicken salad growing up. On the contrary, I hated it. Mayonnaise-based salads made me gag. I'm growing up…slowly. I still can't handle it if the mayo is too overwhelming. Maybe it's a texture thing but I just can't. My good friend turned me on to the idea that mayo doesn't have to be a main ingredient – it can just be there enough to hold the good pieces together. Brilliant. No more squishy, sloppy "salad". Instead, I was left with a delightful, crunchy medley of flavors that I really liked without the gag factor. This, I could work with. So I went about creating the perfect mix of crunch, sweet and salt. I'm not kidding – I eat this stuff like the Cat in the Hat: on a cracker, in a sandwich, with a fork, scooped up on chips, on cucumber slices, in a croissant. The options seriously do not end with this stuff. So good. My favorite review went something like, "Damn, I could eat this stuff off of a flip flop." Friends, I'm not sure a chef can ask for more than that.
Chop, mix, consume. There's no secret here other than following the recipe. I like to use rotisserie chicken because I'm lazy and it's amazing. Zip up the rest of the fruits and veggies and mix that all together with a good amount of Lawry's and then just prepare yourself. Better yet, go grab a flip flop.
Category: At Home, Recipes, Wellness, Young Living Lifestyle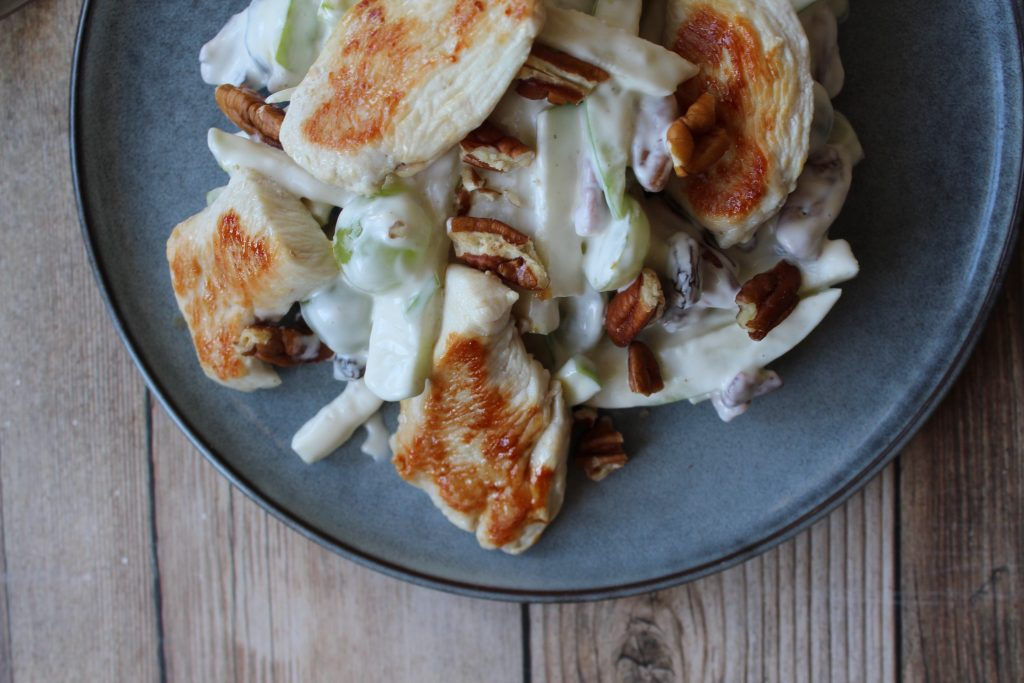 Ingredients
1 pound cooked, chopped chicken
1 cup plain greek yogurt
½ cup mayo
1 cup halved grapes
1 cup chopped green apple
¼ cup raisins (or dried cranberries)
¼ cup chopped pecans
1 tsp Lawry's season salt
Instructions
Mix everything in a large bowl and serve on a croissant.