Is there anything better than a GREAT alfredo sauce? Few things, I contend. And…is there anything worse than a lame alfredo? Few things, friends. Few. Things. I have a love affair with great Alfredo…which means I rarely order it when I'm out unless I'm at a real deal Italian place. I have a silent philosophy that I won't order anything out that I can make better at my own home. I follow that 99% of the time and it has served me well. And I make a damn fine alfredo sauce.
It's not complicated. And when you nail it…call the neighbors. Or don't. Just hoard it for yourself – that's what my husband would say. This sauce is versatile as the day is long. I've eaten it a dozen ways. Your standards are always ready to roll: your favorite pasta with grilled chicken, shrimp, a pile of roasted veggies, fresh basil and a garden tomato, or a nice filet sliced thin. Or you could really get outside the box and light up a pizza crust, throw some roast beef in there for a fusion Italian style stroganoff flair, drizzle it on a burger, or get creative and wow the guests with a chicken alfredo lasagna. I'm getting hungry. This sauce is your canvas.
Melting the butter and throwing in your spices before you add the cream will really bring out the flavors nicely. Stir often as this can burn if you're not paying attention. The sauce should be thickening up by the time you add your cheese. As always, salt it till it pops. Bon Appetite!
Clean Plate Club Chicken Alfredo
Category: At Home, Recipes, Wellness, Young Living Lifestyle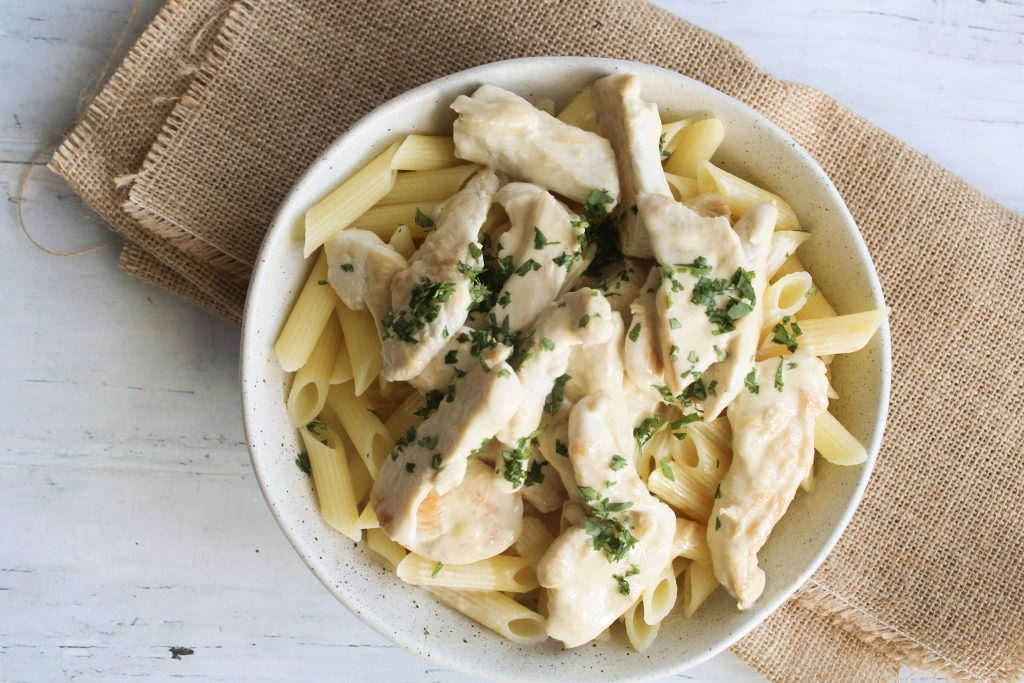 Ingredients
3 cloves garlic, minced
½ stick butter (4 tbsp)
2 cups heavy cream
¾ cup fresh grated parmesan
1 tsp salt
1 tsp coarse ground black pepper
1 pound cooked, chopped chicken (grilled is the best)
1 pkg. pasta of choice
Salt and pepper to taste
Instructions
Start water for pasta – prepare per package directions
Melt butter in medium saucepan over medium heat.
Add minced garlic, salt and pepper – cook garlic 30 seconds.
Add heavy cream. Cook 10 minutes till a simmer, stirring often.
Add parmensan. Stir to melt and combine.
Add salt and pepper to taste. Sauce should be fairly thick. Add chopped chicken and serve over your favorite pasta.
I've created a free PDF download for you: Five Secrets About Essential Oils In 5 Minutes. They're in "The Scoop"!
Click Here to get it.