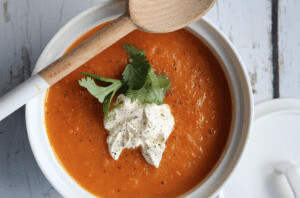 I love soup. I really do. It's great out of the pot but it reheats almost better the next day. Because I am a "cook once, eat twice" kind of girl, soup is a main go-to in our family's meal schedule. I also make my own bone and veggie broths whenever I can so that just amps up the flavor and nutritional profile of my soups – and everything else I use broth in as well. I'm not going to lie, I do use boxed broth in a pinch but once you've made your own, the boxed stuff really doesn't compare.
Roasting these veggies ahead of time in some olive oil and salt & pepper makes the flavor of this soup outrageous. After roasting, I blend them up in batches with a little broth in my VitaMix then pour that puree into a stock pot. With your last batch, add 2 tablespoons of olive oil in to the blender. This takes the smoothness of the soup to the next level. After putting all the puree into the pot, add additional broth to your preference of thickness and as I say, "salt it till it pops". There's the point where it's "pretty good" and then there's the point where it's "yessssssssss". Especially with veggies, this difference is the salt. Don't be afraid of it! The sodium you need to worry about is the stuff that you don't add – the stuff that just hides out in the processed foods and sprays on flavor. That's the stuff to watch out for. A little extra of the Himalayan pink stuff is salt worth eating.
This recipe can easily be vegan, dairy free and gluten free if your needs require. My preference is a splash garnish of organic heavy cream before serving but coconut milk also rocks. Just make sure you use veggie broth in the recipe if you're going for the vegan version. If not, you can experiment with the flavor change that using beef or chicken broth serves up. Treat yourself to some crusty bread and bon appetite!
Ingredients
6 Carrots, peeled & quartered
1 Yellow Onion, peeled & quartered
2 Sweet Potatoes, peeled & rough chopped
4 cloves garlic, peeled
5 tbsp Olive Oil, divided
1 tbsp Himalayan Pink Salt
½ tsp coarse ground black pepper
2 drops Young Living Black Pepper Vitality Essential Oil
4 cups Veggie Broth (plus more if you like a thinner soup)
Sour Cream and chopped cilantro for garnish
Instructions
Preheat oven to 400F.
Toss all veggies in 4 tbps. olive oil, salt and ground pepper.
Roast 55 minutes on baking sheet, turning halfway.
Working in batches, blend veggies with broth in a blender or use an immersion blender in the pot to do it all at once. **Vent your blender well.**
Return all blended ingredients back to large stock pot and add Black Pepper Vitality essential oil.
Add 1 tbsp olive oil and stir well. Adjust broth here to your thickness preference and add salt until the flavor really pops.
Garnish with sour cream and fresh chopped cilantro.
I've created a free PDF download for you: Five Secrets About Essential Oils In 5 Minutes. They're in "The Scoop"!
Click Here to get it.