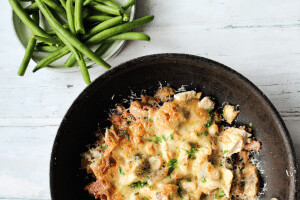 While the title of this recipe can also be used as an expression of surprise, it also describes one of my family's most requested dinners. I am married to a lover of chicken dishes and am forever trying to change the way we do chicken so everyone else in the house doesn't tire of his insatiable desire for the white meat. I'm sure he feels the same way about my love for Tacos but marriage is about compromise…apparently.
I generally purchase several pounds of chicken at a time and cook them all at once so I always have it readily available. When I don't, it takes about 30 min to have it done and ready to chop and smother for this (or any) recipe.
Preheat your oven to 350F. Heat a TBSP of olive oil in a medium, oven safe skillet and sprinkle your favorite seasoning over the oil. Medium/high heat. I like just Salt and Pepper for this or Lawry's or Cavender's…but I like those for most things. You could use BBQ seasoning or rotisserie – it's up to you. When the oil has heated up, put your chicken down and season the top side. Let it cook for 3 min, then flip for 3 more. You're looking to sear here, not cook through. After the 6 minutes of cooking, transfer the whole skillet into the oven for 25 minutes. This should bring the chicken right up to perfect, or even a shade under. That's ok, you're not done with the cooking just yet. You do NOT want to overdo this step or you will have dry and tragic chicken – please avoid at all costs. Take the skillet out and just set it on the stove. Turn your oven to "broil" setting.
After you stick the chicken in the oven, cook your bacon strips on the stove in a large skillet. When they're done, set them on a paper towel to drain and dump the mushrooms in the bacon fat. When they're cooked down and delicious, take them out and chop them together with the bacon strips. Drain whatever liquid is left in the pan but don't rinse it out. Return the mushrooms and bacon to that pan. Now you're ready to make the sauce.
Combine equal parts (approx. 1/3c) of each yellow mustard, mayo and your favorite bbq sauce in a small bowl and stir them up.
Chop your cooked chicken throw it in the pan with the mushrooms and bacon. Pour the sauce over everything and stir it up. If your chicken needs a little more cooking, turn the fire on here and cook a few minutes altogether. If your chicken is done, you only want to introduce heat here – not long enough to actually "cook" anything, as everything is already cooked. Grate some Colby jack cheese over the whole mess and throw it under the broiler for 2-3 minutes to melt the cheese. Scoop this into a bowl, on a plate, over rice or on a bun. We like Roasted Broccoli and Cauliflower and Gim'me Some Green Beans. It's good all the ways. Dig in!
Category: At Home, Recipes, Wellness, Young Living Lifestyle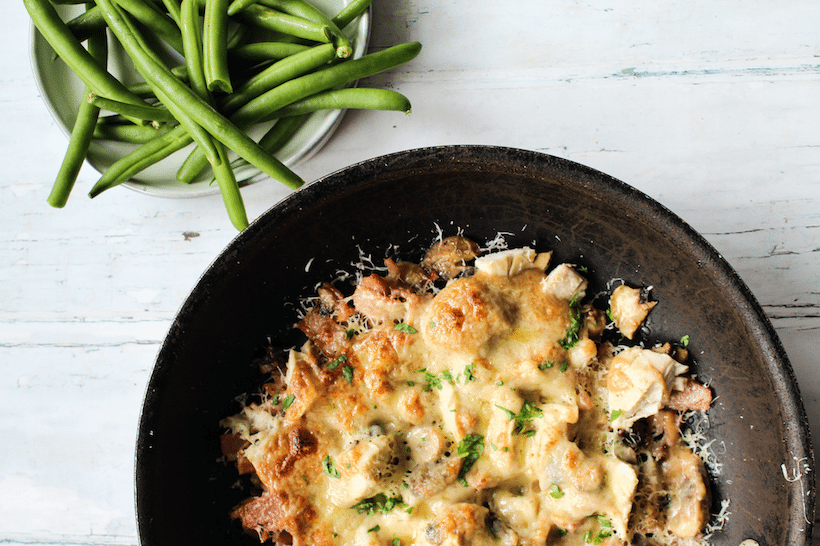 Ingredients
1 pound chicken breast, cooked and cubed
4 slices bacon
8 ounces sliced mushrooms
Salt and Pepper
8 ounces Colby jack cheese, grated
¼ cup BBQ sauce
¼ cup Yellow Mustard
¼ cup Mayo
Instructions
Preheat oven to 375F.
Season chicken breast both sides with salt and pepper. In an oven safe skillet, sear chicken over medium/high heat with olive oil 3 minutes on each side. Put skillet in oven and bake for 20-25 minutes, until JUST done.
In a separate skillet, cook bacon. Remove meat and sauté mushrooms in bacon fat.
Chop chicken and bacon and return both to the mushrooms.
Make sauce by combining BBQ, mustard and mayo in a small bowl.
Stir it all together in the skillet.
Grate cheese over the mix and broil 2-3 minutes to melt cheese.
Serve along side veggies of choice.